Director of Athletic Performance
Monte Sparkman,  M.Ed, CSCS, USAW, USATF
Monte Sparkman enters his sixth year coaching at Richland High School.   Prior to his arrival at Richland, Sparkman had coaching stops at Burkburnett, The Virginia Military Institute, and most recently at North Ridge Middle School.   On June 15th Coach Sparkman will be recognized by the National High School Strength and Conditioning Coaches Association as the South Region Coach of the Year.  Sparkman was one of 4 finalists for the national coach of the year award.  The award will be presented at the NHSSCA national conference in Noblesville, Indiana.  Coach Sparkman currently serves at the Texas NHSSCA state director.
Sparkman was a 3 year letter winner in football and earned his undergraduate degree from Baker University in 2002.  He received his master's degree in education in 2007 from Wayland Baptist University.   Sparkman is a NSCA Certified Strength and Conditioning Specialist, certified Club Coach and Sports Performance Coach through USA Weightlifting, and a certified Level 2 coach through USA Track and Field.
Sparkman is married to the former Sabrina Kingston of Burleson, TX and they have two children: Jacqueline Shea (9) and Alexandra Rea (6).
The Freak Factory!! Welcome to the #Darkside

News and Featured Stories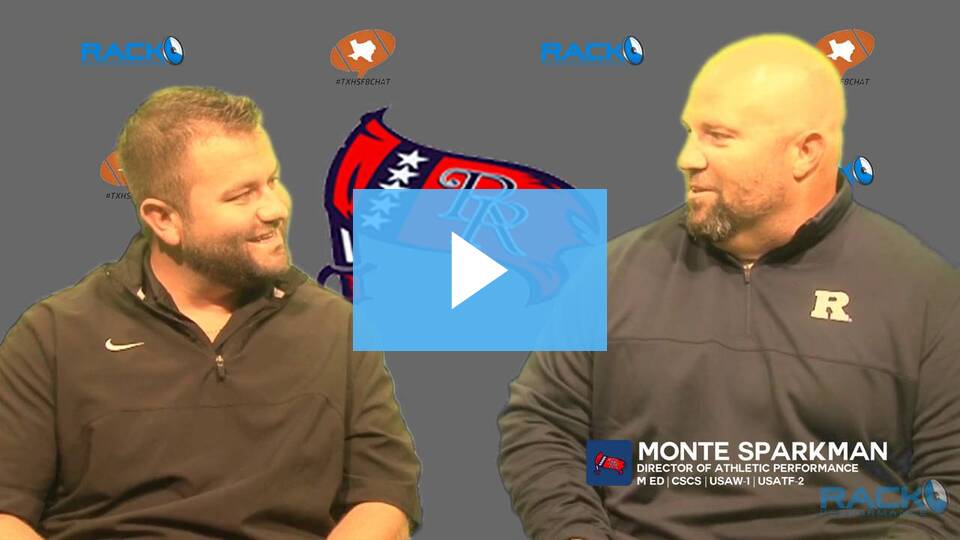 "60 Seconds with Monte Sparkman" on UnderdogSports.com
"A Debate Between Powerlifting and Olympic Lifting as the Main Athletic Training Method" An Article by Monte Sparkman
NSCA Position Statement on Youth Resistance Training
The Case for Hiring a High School Strength and Conditioning Coach
Rebel Nutritional Information
Ben Hogan Sports Medicine Tips and Handouts
Michigan State's Sports Nutrition Video Series
MSU's "Sports Nutrition 101 Handout"
MSU's "Sports Nutrition 101" Video #1
MSU's "Athlete Performance Plate" Video #2
MSU's "Timing of Intake" Video #3
MSU's "Energy Balance" Video #5
MSU's "Putting it All Together" Video #8
Helpful Links
National High School Strength Coaches Association
National Strength and Conditioning Association
Gatorade Sports Science Exchange
A competitor in his own right, Coach Sparkman's career achievements include the 1,000 lb. squat and 485 lb. bench press featured below: